Many countries around the world require a negative Covid-19 RT-PCR or Rapid Antige test result for international travel, with most requiring that a sample type is obtained within 48 to 72 hours prior to departure. However, sometimes this test can be required within a certain number of hours prior to arrival as well. In addition, there may be specific requirements such as nasopharyngeal, oropharyngeal, or nasal swab samples as well.
Many travellers now understand the different types of tests that are available or required for their destination, such as the gold-standard RT-PCR test or a Rapid Antigen Test. However, the type of sample acceptable for their destination may sometimes be overlooked and this may disrupt your travel plans.
At Swift Clinics, we offer two types of Sample collection:
Nasopharyngeal Swab Sample

: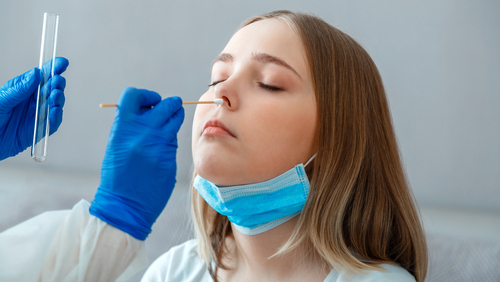 The nasopharyngeal swab is one of the most accurate methods of sample collection, and often widely used by Public Health agencies around the world. This method includes inserting a dry swab through a single nostril, straight back until you reach the posterior wall of the nasopharynx – generally about half the distance between the nostril to the front of the ear. Contrary to popular belief, the swab goes straight back towards the ears, not up towards the head. Many countries require this type of sample to be collected, and this information needs to be included on your results certificate. All public health PCR testing in Ontario is performed using nasopharyngeal swabbing.
Nasal sample

:
A nasal sample is a more comfortable method for sample collection. The Bilateral Anterior Nasal Swab goes 1.1.5cm into the nasal cavity (about 1 inch). The nurse swirls the swab for a few seconds and then performs the same activity on the second nasal cavity. In addition to being more comfortable, this sample type is also safer for individuals with any nasal conditions or past injuries. If your destination does not specify a type of sample required for your Covid-19 PCR or Antigen Test, you can likely use a Nasal sample collection method.
Both types of sample collection can be used for Antigen Tests or for RT-PCR tests. For example, you can do sample collection using a Nasopharyngeal OR a nasal swab and then test it using an Antigen testing device.
When testing with Swift Clinics, you will be provided an option to select one of these two sample collection methods on the day of your appointment. Please advise your nurse on your required or preferred method. Please note that this sample type will be stated on your travel/results certificate issued by us. Click here for more information on our services, or click here to book a service today!
As always, we recommend confirming Covid-19 testing requirements with your destination border and/or public health agencies, as well as your airline to ensure that you have a smooth and hassle-free travel experience.